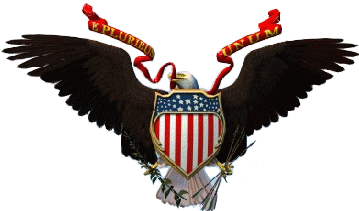 Project Diary

Work on the project started some time ago. Lots of things have already been bought for this project (eg. The bunting, the documents, the eagles, the weather vane, etc). This diary will cover what remains to be done.

May 10, 2008
Went to OSH and Home Depot to start buying the building blocks for the project. At OSH I got the bolts, washers, and nuts for the bottom section. (Went there because they were having a "We Pay The Sales Tax" sale, so picked up several items there.

At Home Depot I went to get the plywood, and have it cut to the sizes I wanted. While I was loading it up this guy comes buy looking kind of lost. He asks me about plywood sizes, and I tell him that they don't seem to sell 1/2 inch anymore, but 15/32 - which may as well be the same thing (I guess the sanding takes off 1/32 of an inch.) I offer to help him load up the plywood he needs.

At this point he says, "What are you buying for?", and I tell him it's a Burning Man project.

He holds out his hand and says.. "Me Too!!"

Apparently he is going to use the wood to fancy up a golf cart. This will be his first year going to Burning Man with a baby, so rather than camp with Space Cowboys he's moving into Kidsville.

I told him about PolyParadise, and said he should stop by for the Carcass Wash.

May 18, 2008
Got some primer and painted the bottom panels of the kiosk. The primer is white, so all I need now is Red and Blue. Sure glad I got the saw horses, with the torn cartilage they make it soo much easier to work.

May 19, 2008
Ordered 3 more eagles to go on the roof of the project. My wife convinced me that it would cost less to order them than to cast and reproduce the one I already ordered. Much as I like casting things, she's right, this is cheaper.

Have some kind of flu like I have never had before. It's sitting in my lungs, and every time I think to get up and do something physical, it knocks me back down caughing. Man I want this gone so I can get the bottom finished this Memorial Day weekend.

May 31, 2008
Putting together the bottom section. Drilling holes and bolting bolts. I LOVE MY NEW DRILL IT... it's an auger bit that cuts through wood like butter. In fact, once it takes hold it's not stopping until it comes out the other side. Love it.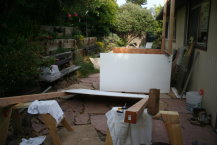 June 01, 2008, Sunday
Finished the bottom section. Marked the internal parts so they would all go back together the same. Took it all apart and stowed it in the garage.

Started painting the bottom section strips. Red first.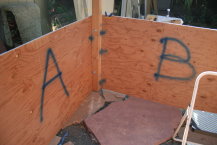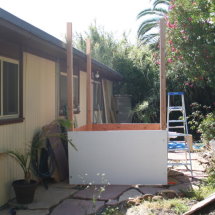 02-Jun-2008, Monday
More painting today. Got the red strips done.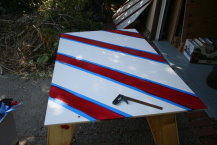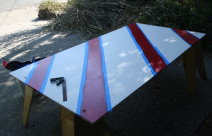 05-Jun-2008, Thursday
Spent the day in L.A. yesterday. Coughing up more blood, but today feeling much better so. More painting. Time to start putting on the blue strips.
Also time to buy my high-def images on-line and design the top banner.

Having to fit everything in the garage all at once is proving to be a challenge... lol

08-Jun-2008
Finished painting the red, white, and blue bottom sections. Damn I wish I felt better.

10-Jun-2008
I've never done Decopage before. So I got some wood for backing, took out my copy of the D of I, and gave it a shot. At first it didn't look very cool, but after a couple of coats it began to look rather neat. I'm still going to experiment with some other finishes for this (eg. "outdoor" decopage. Maybe a top coat of urethane), but as of right now, this problem (the problem of how to mount my various documents) is solved. Some holes and bolts, and the D of I. is mounted !!! Cool

15-Jun-2008
Bought the wood to make the top pyramid, and 3 of the hinges that will eventually make this into something that can be taken apart and put back together over and over.

16-Jun-2008
Okay.. so I found a way to "mechanically" draw the proper lines at the proper angle to start creating the pyramid that is going to go at the TOP of the structure. Still I wanted to check my lines, so I measured the one line I didn't know the length of... hum... 80.5 inches. Okay.. go on-line an look up the formula to check that measure. DAMN I should have remembered that one from high school.. and how scarecrow got it wrong in the Wizard of OZ . - which came out to 80,48761.... close enough.

I will start cutting tomorrow and put together the first 2 sides so test my construction method.

OH... and guess what came in the mail today. My first ever check for doing ART !!!! Weee Haaaww...

Here it is

Damn... that means alot to me.

81-Jun, 2008
Well, finally some progress. Been working on the TOP pyramid and got 2 sides cut up and ready to hinge. Yes, I will put hinges on the inside, and idea I owe to Lewis Engel. With hinges on the inside I can just pull the pins and the thing will collapse, making it easy to transport and re-assemble.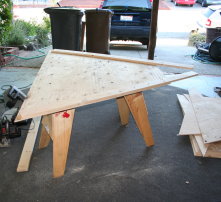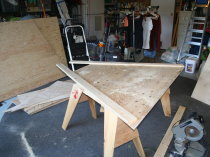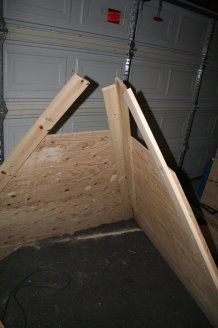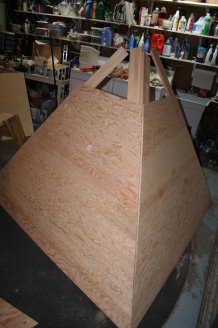 June 21, 22
Building pyramids is harder than I thought, but I pretty much completed the "top" pyramid. It's going to need a couple of screws on the playa, but otherwise it's ready to go. I'ts going to need some practice builds.... a couple of them before the playa. I was hoping to get to painting it this weekend too, but company and other interruptions took the time. People going by on the street were wondering about why there was a pyramid in the garage... lol.

AND OH MY GOD !!!! The GOLD paint is expensive as all get out. I bought a quart of it, just to see how it's going to look... and that quart was $31. A Gallon is going to run $90. This better look good. I also bought some "goldish" flat interior on the advice of the color specialist at the paint store to act as a primer for the gold. But if it works it's going to look amazing. Can't wait to give it a try....

28 Jun 2008
I have a big gold pyramid in my garage. That gold paint looks really nice (better for the price). I also have mounted copies of the D of I, and the Bill of Rights. Still waiting on the Constitution; the company I ordered from sent me 2 B or R's; they are shipping me a Constituion right quick.

Oh.. the banner is ordered.. I hope it gets here before I have to leave for Delaware.. Anxious to see it. Design changed some from the original on the model.

30-Jun 2008
I no longer have a big gold pyramid in the garage. Finished the details on this and 2nd coated it. Then crawled under and popped out the pins in the hinges. Came apart just as planned. Each piece can be carried by one person. Hopefully it will go back together as easy as it came apart. (bringing drill and screws to the playa just in case... lol)

25-Jul-2008
Well, vacations and business travel are out of the way. Time to get back to work.

Things have been arriving in the mail... 15,000 index cards, 25 dozen pencils, 3 more banners for the top of the project, mailboxes to hold supplies, and massive 2 inch tie down straps.

The bottom pyramid is constructed. Going to get the mounting boards for this and the top today. Should be able to put, at least the bottom section all together this week end in the back yard. Then have to finish the boards for the banners and figure out how to put these up top.

After all that.. it will be lighting and details.

27-Jul-2008
Went to the city looking for Trouble... and I found him. He came over and helped my put together the lower section of the project. This is the first time that I know for a fact that everything will go together... the hinges worked perfectly inside the pyramid. The bottom peices supported it great, and the overall measurements were perfect. THANK GOD.

Here are some pictures of what the bottom will look like.. note: the pyramid is not finished yet and the bunting isn't on yet, but this is looking good. All the banners are in for the top and that will get put together next weekend... Oh, and that guy standing there.. that's Trouble.

17-Aug-2008
Spent the last week putting this thing together.. detail work. Writing platform... Mailbox mounting.. Final Decopages... Paint... And there is still more to do.
A little worried about the plastic pyramid coming together. Some of the sides are drying even as I type. And I was BOWLED OVER at how much KINKO's charged me for the poster size pictures of the eye. But.. It's push comes to shove time.. and everything needs to fall in place. So far.. so good...

More Pictures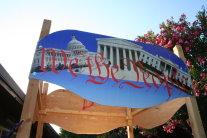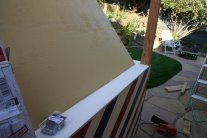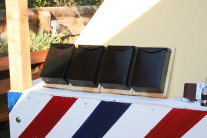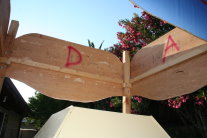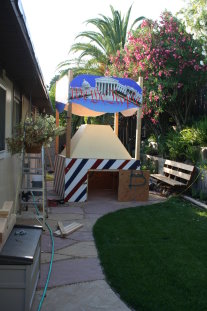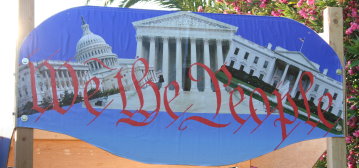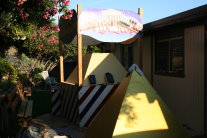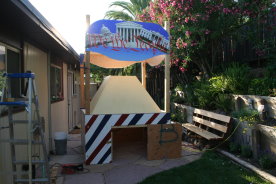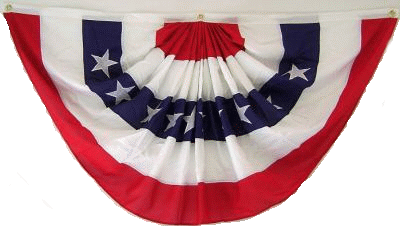 ---